Lucia Carolina De Rienzo
Executive Producer – Artistic Rirector
After graduating as theatre actress, she trains in physical and dance theatre with the Turin based choreographer Enrica Brizzi, with whom she works as dramaturg and assistant director in several stage performances from 2007 to 2010. With an MA in Literature & Philosphy at the University of Turin, in 2010 she achieves a Master Degree in Cultural Project Management at Fitzcarraldo Foundation. She has been Project manager of the European project « PerCorpi Visionari », she has also been Performing Arts Consultant at Turin's Metropolitan Urban Center (2014-2015).
Since 2010 she has worked as a project manager, executive producer and co- artistic director at COORPI, where she is also Vice President. Artistic director of the national screendance contest "La Danza in 1 minuto" (8 editions) and of "Campo Largo", the first Italian artistic residency focused on screendance, a cross-media creative incubator between dance, video, sound design, performance site specific and territorial storytelling. She also is Executive Producer of transmedia dance projects, such as "re – FLOW" and "Zona Martiska".
In the last 5 years she has produced with COORPI 25 original short dance films, which have been selected in international festivals in over 40 different countries and won 12 different awards.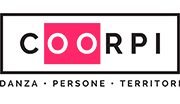 COORPI is a cultural non – profit organization, gathering dancers, choreographers , teachers and professionals working in the dance field on different levels. The association was founded in November 2002 to commend choreutic professionals by supporting their professional and creative development, develop new interaction' processes between artists and local communities, engage new audiences, promote training and research on contemporary dance and to encourage new forms of collaboration and networking, providing a dynamic space for discussion and dialogue between its members, local communities, regional and national institutions.
Since 2011, COORPI has focused on projects with a strong multimedia and interactive component, combining dance, video, social media and the development of interdisciplinary expressive formats to improve creative and physical narrative across the body and relaunching screendance production and dissemintaion on a national scale.
In this direction the association's intervention strategies voluntarily place themselves on a liminal position of experimentation between different artistic expression and call in to question a multiplicity of "actors" in the artistic, technical and economic field, imagining production, training and distribution as an organic process.
All this has accredited and consolidated the strategic positioning of the organization both at a national and international level, as subject devoted to promoting broader and new audiences for dance, with a major focus on youngsters (<30).