Jukka Rajala-Granstubb
Film Director – Producer – Programmer
After years of working as editor and director at YLE broadcaster, Jukka started private production company MALAKTA Art Factory. From 2007 Malakta Art Factory has established as initiator and a producer of innovative art projects and audiovisual productions. Malakta runs a yearly arts and a residency program, art festival Burning ART, hosts cross arts workshops and functions as a creative hub for international arts and cultural networks. Malakta Art Factory has been awarded multiple times about their cultural activities and creative entrepreneurship.
As a filmmaker, Jukka makes films about people. He is interested in other peoples' stories and aims to transfer their energy, ideas and experiences onto film. Rajala-Granstubb refers to his filmworks as "portrait films" as they are conceived and then completed with the subject as sole focus. His films have been awarded and screened internationally. As a cinematographer he has worked for many short films and drama series.
As a producer, he has concentrated on documentaries and short films."In my productions I want to value ethics and aesthetics, most of all the message which needs to be heart and world changing. What we invest our effort needs to make the world a bit better place, one production at a time."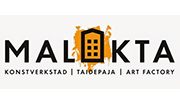 MALAKTA was established in 2007 by Ann-Maj Granstubb and Jukka Rajala-Granstubb with a vision to create a space for people, creativity, wellbeing and development.
Malakta has been arranging and hosting events, concerts, theatre, markets, workshops, masterclasses, retreats and creative get-togethers since 2007. Malakta houses artist studios, crafts workshops, artist residencies and a film production company all under the same roof. Malakta's creative community also realize projects together with regional, national and international collaborators. Yearly intensive workshops, Malakta Labs that bring together international participants to work, create and share together, were established in 2012. Malakta now runs yearly Dance Film, Sound Field and Foto Labs.
Yearly Art Program;AiR residency Programme, Malakta Labs and events as Art Saturdays are since 2017 being run and produced by AiM – Art in Malakta rf Association.
The board of Art in Malakta rf 2019-2020: Annika Sillander, Ann-Maj Granstubb, Jukka Rajala-Granstubb, Patricia Rodas, Stefan Backas, Susanne Marins, Dragos Alexandrescu, Valentina Gelain, Bekim Hasaj.
Malakta is a space welcoming national and international artists, the local community, groups, associations, companies, and all with an interest in creating better conditions for people, ideas and organisations to develop in a sustainable and dynamic way.
Malakta is a vibrant and growing centre for art and innovation that continues the proud tradition of the original dairy: a busy centre for the community and a well-known brand.