mAPs – migrating Artists Project – is a transmedia cooperation project between five European countries aiming to support and mentor professional, experienced artists through the production and dissemination of high standard screendance projects, with a commitment to strong ethical values, questioning contemporary societal issues and involving communities into creative processes, every step of the way.
mAPs will be developed on the period 2019-2022 with the support of Creative Europe programme by its co-founders :
• STÉLA – DAN.CIN.LAB / France
• COORPI / Italy
• TANZRAUSCHEN e.V. / Germany
• MØZ / Greece
• MALAKTA FILMS / Finland
The first mAPs collection will focus on the theme of POWER in Europe.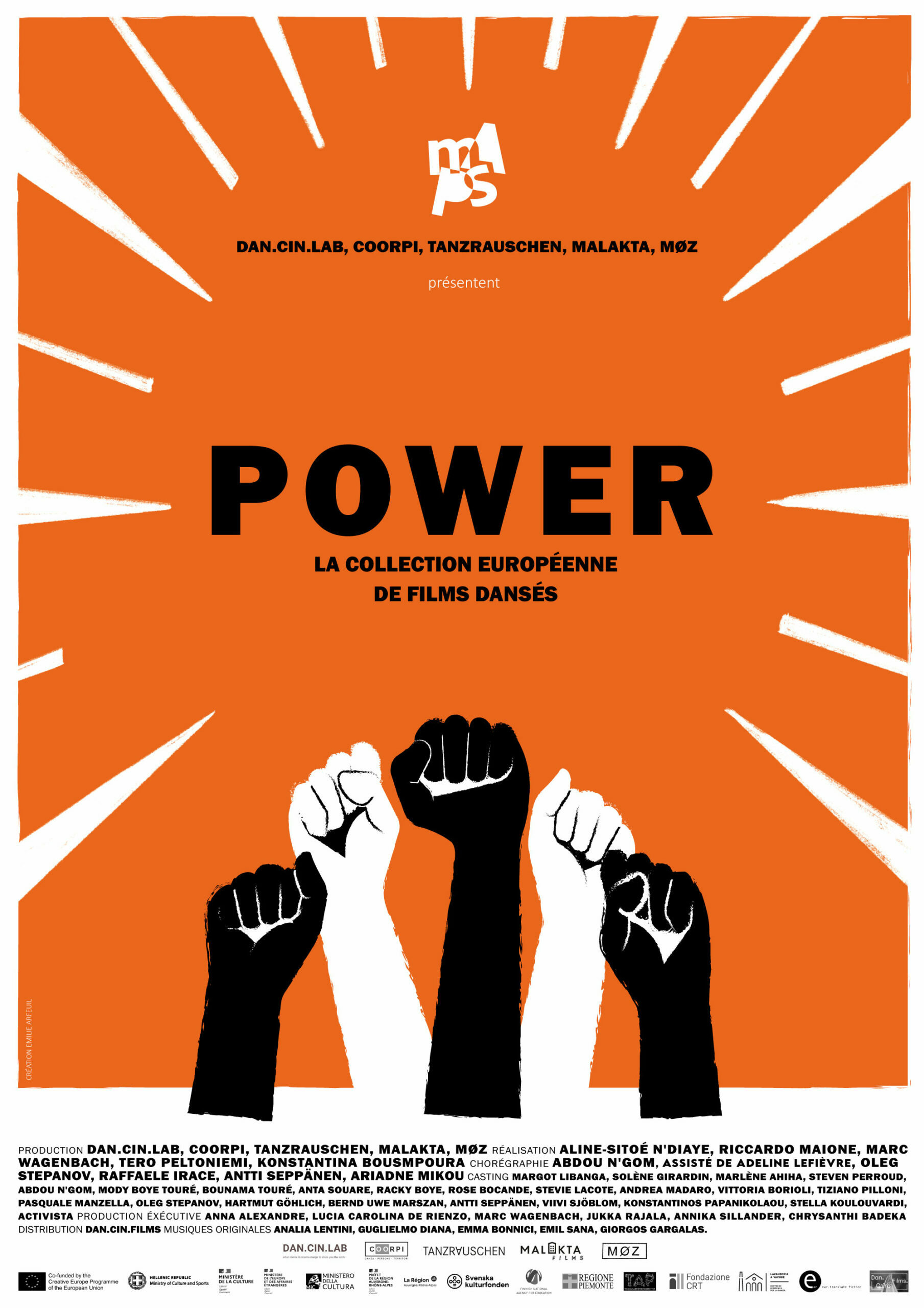 DAN.CIN.LAB, COORPI, MALAKTA, MØZ, and TANZRAUSCHEN joined forces with Numeridanse.tv / Maison de la Danse de Lyon and Comoedia Cinema to present on Friday 3rd of June at 8pm in Comedia Cinema the world premiere of
POWER. The mAPs dance film collection
produced within the framework of the European project mAPs – migrating Artists Project*.
This unique project has brought together 5 choreographers/filmmakers duets in France, Italy, Germany, Greece and Finland to create 5 short dance films around the theme POWER.
The collection have been touring around the world, with special events in many international markets and festivals.
Contact us to programme a screening with Q&A or connected workshops, conference and exhibition to share the very special process we developed to achieve this one-of-a-kind collection, crossing so many strong voices merging cinema and dance around one of the most crucial issue of our times!
Clermont Ferrand International Short Film Festival, FR
The Clermont-Ferrand Short Film Festival is today the world's most important film event dedicated to short films. In terms of audience and professional presence, it is the second film festival in France after the Cannes festival.
Parallel to the Festival is held every year over 5 days the Short Film Market, which brings together in one place all the professional categories of the sector (directors, producers, broadcasters, buyers, film schools, national organisations, etc.). More than a hundred organisations from all over the world come to present the short film productions of their country in the Market's stand area.
Aesthetica International Short Film Festival, UK
The Aesthetica Short Film Festival is a BAFTA qualifying international film festival based in York, UK. ASFF is an important outlet for moving image and digital culture, creating a platform to champion film internationally.
The festival holds talent development at its core and leaves a lasting legacy by inspiring innovation in film. ASFF is an important hub for industry professionals, offering the a meeting place that encourages collaboration and that promotes industry learning and development through masterclasses and networking.
IMZ Music+Media Centre, AU
The Vienna-based IMZ International Music + Media Centre is a Nonprofit Organisation that was founded under the aegis of UNESCO in 1961 to preserve the performing arts as a cultural asset.With this goal in mind, our mission is to promote the performing arts in and through audiovisual media in order to make music + dance performances available for future generations but also to reach + engage new audiences through the more easily accessible medium film.
As a global business network for more than 150 IMZ Member Organisations , the IMZ provides relevant information + opportunities for those active at the intersection of performing arts + media: leading film + TV production companies, public + private broadcasters, streaming platforms, distributors + record labels as well as opera houses, concert halls, orchestras and dance companies.
The International Festival of Films on Art of Montréal, CA
The International Festival of Films on Art (FIFA) is dedicated to the international promotion and distribution of films on art and media arts. For nearly 4 decades, it has presented an annual event in March, which allows discovery of the latest documentaries on art.
With its various activities all through the year, FIFA is committed to increasing the knowledge and appreciation of art among the public, promoting the work of artists in the fields of cinema, video and visual arts, and also encouraging the production and diffusion of art films .
Jumping Frames International Dance Video Festival, HK
Jumping Frames International Dance Video Festival (JF) is presented by City Contemporary Dance Company (CCDC) since 2004, Jumping Frames International Dance Video Festival is the only festival of its kind in Asia, featuring commissioned works, competition, and a selection of acclaimed international productions. It has served to promote dance video in China and in Asia, as well as to provide a platform for artists and audience alike to share the perspectives and explore the unlimited possibilities of the art form through talks and workshops.
The Festival brings the excitement of dance video worldwide through screenings, and enhances cultural exchange through invitations of renowned dance video artists to the Festival, made possible by the support of various national and international partners.
Numeridanse.tv is a multimedia dance platform. It offers free access to a unique video base: filmed performances, documentaries, interviews, fictions, dance videos. Every single genre, style and form is showcased here: butoh, classical ballet, neo-classical ballet, baroque, Indian, African, flamenco, contemporary, traditional dances, hip-hop, tango, jazz, circus arts, performance, etc.
Numeridanse.tv is headed and coordinated by the Maison de la Danse, Lyon, and was imagined by the director Charles Picq. Since the outset, Numeridanse was created and has been developed hand-in-hand with the French National Centre for Dance (CN D) and has been supported by the BNP Paribas Foundation and the French Ministry for Culture.
Citerne.live is a space opening possibilities for critical artistic thought to rethink culture and open new channels of artistic expressivity and engagement.
Citerne.live proposes an artistic program embracing an urgent discussion about the future and politics of performance-making and forms of presentations. Moreover, it aims to host creators, performers, writers, visual artists, researchers, and philosophers that are engaged in formulating a critical discourse against domination and inequality.
Institutes and think tanks
The Wuppertal Institute sees itself as a leading international think tank for sustainability research focused on impacts and practical application.
The organisation's activities are centred on developing transformation processes aimed at shaping a climate-friendly and resource-efficient world.
Marge Research Group – University of Lyon 3
The Marge team examines the relationship between literature and the cultural, social and media contexts in which it is embedded and in which it participates, particularly in the digital age. Marge also aims to demonstrate that literature, literatures, through their aesthetic inventions, through the models of narratives they propose, through their modes of media circulation, act in the most diverse and heterogeneous social spaces. At the same time, Marge's research targets how literary production and its context constitute a privileged corpus for heterogeneous approaches and investigations (information and communication sciences, sociology of audiences, cultural industries, etc.).