Chrysanthi Badeka
Choreographer – Dancer – Editor – Cinematographer
Chrysanthi Badeka after her B.A in dance (Athens), she pursued her M.F.A at Tisch School of the Arts in NYU (New York), focusing on choreography for the camera. Since then she has been working as a freelance choreographer, cinematographer, editor and videodance trainer and curator.
For 10 consecutive years, she dedicated herself to the promotion of the art of dance film making, co-directing AVDP – International Dance Film Festival (2010-2020) and co-funding The Mediterranean Screendance Network, while now she is the Artistic Director of MØZ Cultural Organisation and Project Manager of mAPs in Greece (Creative Europe Program). As maker, propelling dance & composition, her practice merges movement with technology, nature and science working through different mediums, on or off stage to synthetic environments.
As an artist she has been supported by the Greek Ministry of Culture, NEON, Onassis Stegi, Compagnia di San Paolo and SIAE (in collaboration with COORPI), State Scholarship Foundation of Greece and NYU.- Since 2012, she has been collaborating with Attis Theater as camera operator/editor and many theater and dance groups. For 2 years she has been a trainer on Dance & Media for the teachers of the artistic schools of Greece in collaboration with the Ministry of Education and she has been a key videodance trainer at the 3-month Inner Movers educational platform (sponsored by the Robert Gocher Stifting Foundation).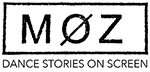 MØZ focuses on the creation of cultural projects, alongside educational and environmental activities, which promote the development of interdisciplinary thinking and arise social awareness, combining art with technology and nature.
Active in areas such as dance, cinema, theater, photography, videodance, art installations, interactive technologies, multimedia and diving, team members merge separate areas of activities in an effort to develop their practice based on innovation. It is dedicated to the research and the dialogue between different art forms and disciplines, mirroring the ever-changing contemporary environment.
MØZ initiates conditions of gatherings and collaborations between people with diverse interests and gives freedom for experimentation on ideas with artistic, social an scientific orientation. The core of every project is the active participation of all those interested and the fruitful interaction with each other.
MØZ is founded by Chrysanthi Badeka and Marios Zervas.It is embraced by different places and blossoms in various ways through local and international collaborations.