Anna Alexandre
Artistic Director – Author – Producer
After a double curriculum in dance and management that took her from Nice to Montreal, Anna Alexandre dedicates her work to the development of strong artistic projects mixing Dance and Image.
In 2011, Anna creates DesArts//DesCinés Festival exploring contemporary issues through the crossed prisms of live performances and cinema screenings.
In 2019, Anna launches DAN.CIN.LAB platform, with a brand new international festival dedicated to Societal Dance Film. She co-signed the same year with the French filmmaker Anthony Faye "Moving Bodies", her first creative documentary about young dancers with disabilities engaged in an inclusive creation of The Boléro between mainland France and the Reunion Island.
Since then, she leads with DCL the mAPs – migrating Artists Project supported by Creative Europe, French Ministries of Culture and Foreign Affairs, in partnership with 4 other organizations – Coorpi (IT), Tanzrauschen (DE), Malakta (FI) and MØZ (GR) – aiming for the production of a first European collection of 5 dance films dealing with the theme POWER, released in avant-premiere in Clermont ISFF and on tour worldwide in 2022.
She launches this season the first international production company dedicated to dance films and innovative contents focusing on societal issues, DAN.CIN.FILMS, supporting a lign-up of 10 dance films and a new process for performance streaming called choreodynamic capture.
Anna is laureate of the SCAN Fund for Digital Creation 2021 for YOU'VE GOT THE POWER – THE mAPs EXPERIENCE, the interactive and inclusive installation in echo to the mAPs' dance film collection about POWER.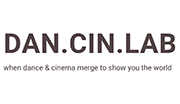 DAN.CIN.LAB is an artistic platform gathering all the activities of the organisation under the same banner: creation, production and dissemination of projects crossing dance and cinema to explore societal issues:
> DAN.CIN.FEST for an international festival and special events focusing on societal dancefilm, though screenings, workshops, discussions and participatory projects connecting people to nowadays challenges.
> DAN.CIN.FILMS for the production of societal dance films worlwide.
> DAN.CIN.PASS for the agency specialised in artists' consultancy on strategic matters in France and abroad.
> DAN.CIN.LAND for the creation of tailored-made projects bridging movement and image to answer business and new cities challenges.